Trek in Peru was Inca-redible
Well I did it, I completed the trek, it was one of the most remarkable adventures that I have ever had. The scenery was breathtaking, the locals were welcoming, the trek was fabulous and the company was brilliant.
Day 1 – 13th May
33 strangers met blearily eyed at 5am at the Iberia check in desk at Heathrow, the flight was via Madrid so after a short stop over we were on our way to Peru the land of the Inca's and funny hats, it was an 11 hour flight but we were all so excited that the time seemed to fly by.
We stayed overnight in an hotel in Lima and I took the opportunity to have my last hot shower as this would be our last home comforts for a few days.
Day 2 – 14th May
We was taken to Lima airport for flight to Cusco, Cusco used to be the capital for the Inca empire and has one of the highest airports in the world at 3400m, this is three times higher than Snowdon. We was warned that when leaving the airplane we would feel our first effects of attitude sickness, fast heartbeat, shortness of breath, headache and Nauseous. Luckily I was not too badly affected and only had a slight headache. Traditionally dressed Peruvian pan-pipe musicians greeted us at the airport and then we headed off for our first cup of hot cocoa tea in the Crosskeys pub in Cusco.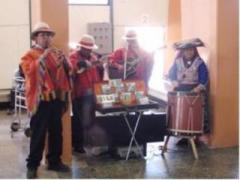 Peruvian pan-pipe musicians at the airport, what has she on her head.
Cocoa tea is made out of the cocoa leaf and I am sure you are all aware of the other use of the cocoa leaf, perhaps this is why it is so good at keeping hunger at bay and helping with altitude sickness.
When returning to the coach I had the real first effects of the high altitude, I started to go very light headed and breathless, I hoped that this was not the start of problems to come. We then travelled just outside Cusco and stopped on a high plateau and we got our first stunning views of the mountains and another opportunity for cocoa tea and then off up the sacred valley for our first nights camp. Max our trek leader commented that he was surprised no one had not been sick yet due to the altitude as usually at this stage a couple of people had been talking down the big white throne by now, comforting thought.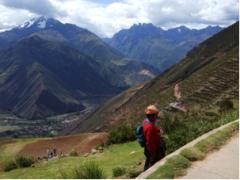 Our first stunning first views of mountains from a plateau just outside Cusco
We travelled on the coach just about as far as we could and a bit further, then had a short walk to our camp at Cachicata. We had our first camp meal, of rice, potatoes and "something", this was the usual sort of meal and we were always left wondering what the "something" was. I was pleasantly surprised at the quality and quantity of food all of which was washed down with lots more cocoa tea.
For the next two days we were going to be filled up with lots of carbohydrates and cocoa tea as this helped our bodies generate more red blood cells which would help with the altitude sickness, that's the scientific bit over.
We was introduced to Max, our expedition leader, he was British but had lived in Peru on and off for more then 15 years, so he knew the country and the people very well, we were also introduced to other support staff on the trek, the doctor Joe, nurse Sonya, trek leader Jock, two Peruvian guides Ivan and Harry and two representatives from Cancer Research UK Nicola and Steve, along with the cooks and the porters and not forgetting of course the horses and mules which would carry all our kit. What can you say about our leader Max, he was a friendly sort of a guy very knowledgeable and very experienced but things had to be done his way, his pet hate was poor time keeping.
The first nights camp was at 2910m and dropping down from 3400m at Cusco helped with the light headedness and heavy breathing, but still did not prevent the heavy snoring in the camp. The first nights camp was a bit uncomfortable, the ground was hard and the sleeping mats were quite thin so would wake every hour or so, also we had drunk far too much cocoa tea so several toilet trips were needed in the night, very strange having to get dressed to go to the toilet.
We all had head torches so in the dark we looked like darleks queuing for the toilets. This was when I made my first big mistake, when leaving the tent it is a good idea to remember which tent is yours as all the tents were the same, so on returning to my tent, yes, you guessed it, I returned to the wrong one, luckily the occupants had also drunk too much cocoa tea and they were on there way out to the toilet.
Apart from dodging scorpions in the toilets and screams after another trekker found a spider in their tent the night past off without too much trauma.
Day 3 – 15 th May
We were woken with bowl of hot water and yes more cocoa tea, this camping is not too bad after all. Today we were doing the tourist bit and sightseeing as this gave us more time to acclimatise to the altitude, so after a short walk and bus journey we were in the traditional Inca town of Ollantaytambo. We had a tour around the fortress temple, this was the first time we had seen close up the building work of the Inca's and I was amazed how they created these buildings with only basic building tools and how they managed to move such large rocks long distances, as this was before the wheel had arrived in Peru. The rocks for the fortress temple were quarried from Chacicata which was about 3.5 km down the valley and we would get chance to see the quarry later in the week. We also seen how the Spanish destroyed the buildings when then invaded in the 16 th Century.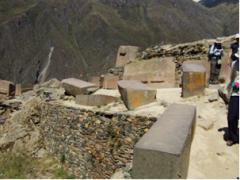 Fortress Temple at Ollanaymbo, built from large rocks which had been transported many miles, then destroyed when the Spanish invaded in the 16th century.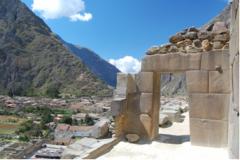 Fortress Temple at Ollanaymbo, hand carved rocks, these ones were left standing.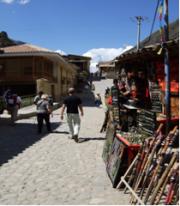 Main st in Ollanaymbo
Then we visited a traditional Inca home, the home was very basic with open fire, hard floors, lots of guinea pigs running around but these were not pets. Sculls of relatives were lined up on a shelf like we would line up photographs on the TV. The coach then dropped us just outside Ollantayambo, this would be the last time we would see the coach and our last chance to call home as for the next 6 days, we were off into the Andes.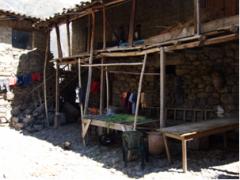 Inca home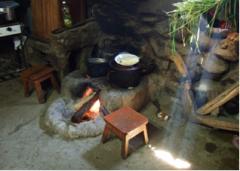 Inside Inca home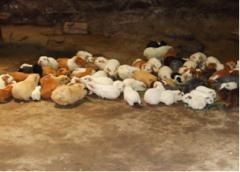 These were not pets !!!!
Our main group was split into two, Pumas and Condors each group to be led by our Peruvian guides Ivan or Harry, I was in the Pumas, we walked for about 2 hours to our camp site on the school football field in a small village called Soqma at altitude of 3205m. Whist walking up to the camp children who were returning from schools in other villages were following us, they had to walk for about 1 ½ hours to and from school every day, at home if my kids walked 1 ½ hours in week they would felt hard done by.
The camp had already been set up and we had a hot bowl of water waiting and then more cocoa tea.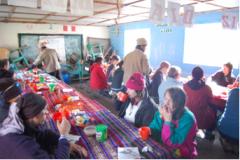 More cocoa tea
As with every day on the trek our Peruvian porters worked very hard, they would have the camp set up for us when we arrived and then in the morning would take down the camp and move to the next site, so every morning they left about 2 hours after us but had to arrive at next camp 2 hours before us, truly a remarkable fete in this terrain, the cocoa tea must be powerful stuff.
We had a hardy meal in the evening, rice, potatoes and "something" and also our first opportunity to try guinea pig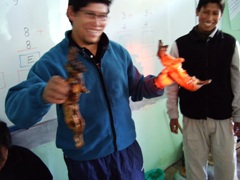 Guinea pig dinner anyone
During dinner Joe our doctor was asked to look at local man who had a serious stomach complaint. If you live in Peru and could get to hospital there is no national health system so unless you are able to take out private medical insurance you had no access to medical services. After diner we heard that the man had a problem with a hernia and without hospital care would eventually die, the cost of the operation would be about $300 US dollars so we had a collection to raise the money for the operation.
Day 4 – 16 May
We was woken early with a hot bowl of water and yes more cocoa tea, this was the day the trek really started so we all packed our day packs with the essentials and the rest of our personal belongings were loaded on the mules to be taken to the next camp. Then we had the ritual of doing our exercises, which we did before the start and at the end of each day, it certainly kept the local amused
Keeping the locals amused with our exercises
Gifts of pens and pencils were given to the local school children, they sat so quiet and patient waiting for their gifts and when they were given them their faces lit up. Before we set off the local mans wife came to the camp to thank all of us for helping him, this was quite an emotional moment for us all.
School children accepting gifts of pens and pencils
It was a relatively steep ascent out of the camp on a small trek, it was also quite hot so it was tough going, the vertigo sufferers amongst us and some who had not had vertigo before were starting to get concerned as the track got higher and narrower, we stopped for a short time at a waterfall and the cool spray was a welcome break from the heat.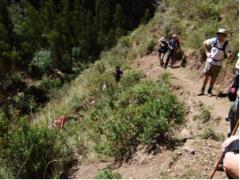 Steep ascent up to waterfall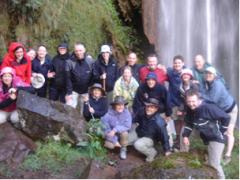 Cooling off at the waterfall
We then continued on up to our lunch stop at Perol Nyoc, this was an Inca ruin that had recently been uncovered and Max gave us our first talk on Peru.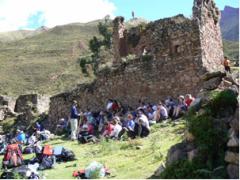 Talk by Max at the Inca ruins at Perol Nyoc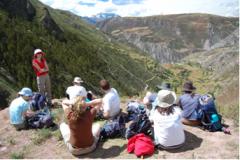 Views from the Inca ruins at Perol Nyoc to the valley below
In the afternoon another steep ascent up to our nights camp on Inca terraces at Corimarca at an altitude of 3740m, we were the first and only people who have been permitted to camp at this site. The air was getting very thin and any quick physical activity took your breath away, I felt light headed and had a headache, it had been a tough walk but the hardest day was still to come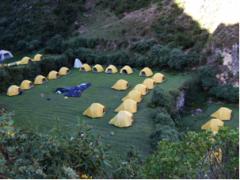 Camp on Inca terraces at Corimarca at an altitude of 3740m
This camp gave us the first opportunity to try out the long drop toilets, they consisted of a toilet seat on a metal frame over a hole in the ground, truly a most memorable experience, now to my next big mistake, when using the toilets it is best to remove your camera from your belt before entering, as whilst I was manoeuvring in the dark my camera feel off my belt hit the toilet seat then in what seemed like slow motion hit the other side of the seat landed to the side of the long drop hole !!!!! that was a close one.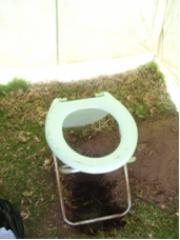 The long drop toilet no mod cons on this trip
Before going to bed we had our usual briefing on the following day, this evening the briefing was a bit more serious as Max explained we was to walk up to our highest altitude at 4445m, the air would be thin, the walking would be difficult, the sun would easily burn, the wind may be strong and if the weather comes in we could expect snow, this day has been know to make grown men cry, we was all told to pack in our day pack only the essentials we required and make sure we had plenty water, clothes, head torch and iodine tablets for water purification in case we got lost from the main group !!!!!!!, we all the went off to bed complementing what the next day would bring.
In the night I experienced another effect of the altitude, I woke up from sleep gasping for air, this was a reaction as we were not getting enough oxygen, we was warned about this but still it gave you a bit of a fright.
Day 5 - 17 th May
We were woken very early about 5.00 am it was still dark, Oh my god. We had left camp by 6.00am just after the sun rose, the walk was a long zigzagging walk up, as the air got thinner the walking got harder, trek horses were on hand for anyone who wanted them which was a great help for some, as we got higher some of my fellow trekkers started to get more sick with altitude sickness, It was quite a shock to see people who were laughing and joking now to be distant, sick and pale.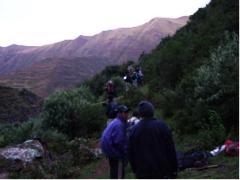 Leaving camp early morning start just as sun rose
Even at this high altitude the local farmers were growing crops, the side of the mountain was covered with potato fields, as we reached the brow at the top of the mountain we were at its peak of 4445m at the Chanca Chuco Pass and we got out first sight on the spectacular snow peaks and down into the valley below, we were up level with the clouds and it seemed like we were on the top of the world, the long trek up was certainly worth it. After a short photograph stop to celebrate our success we were off again, it was still only 11.00am and we had another 7 hours of trekking to go.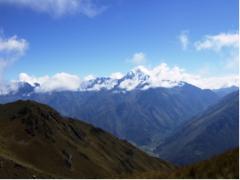 At 4445m view of snow capped mountains and down to valley were we started from a few days earlier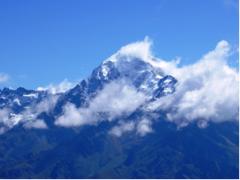 What a sight up level with snow capped mountains and clouds
| | | |
| --- | --- | --- |
| | | |
| Time for group Puma Photograph (Girls) | | Time for Puma group photo (Boys) |
We made a small decent down and then stopped for lunch, this was a nice sight as in the middle of nowhere had been erected a tent to eat and rest in, a toilets erected, long drop of course, hot tea, cocoa of course and soup, all or this had been carried and set up by the Peruvian porters as they did on every day of our trek.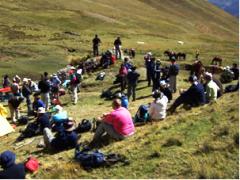 Lunch stop
The afternoon was another long walk along a step path though the Charcahuaylia pass again very difficult for the vertigo suffers.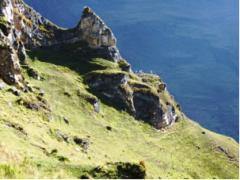 Not good for vertigo suffers, you can just see the track leading up to the rock and the vast Charcahuaylia Pass beyond , on top of the rock is some of my fellow trekkers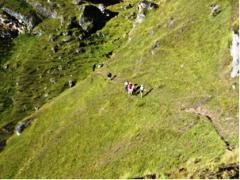 And a view back from the rock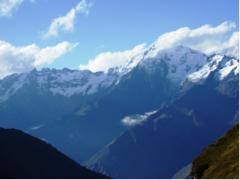 A view back along the Charcahuaylia pass
We finally reached our over night camp at Ancascocha at 3958m it was 6.15pm and getting dark and we had just completed over 12 hours of trekking, we were all happy the hardest day was over and now we could all relax, we were all exhausted so off to bed early at 9.00pm, the night was going to be cold. Sleeping was now not a problem, the ground seemed comfortable, I think it was either shear exhaustion or overdose on cocoa tea.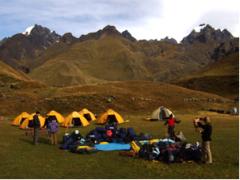 Camp at Ancascocha at 3958m
Day 6 – 18 th May
When we woke there was a frost and a chill in the air, the only way now was down, so it had to get warmer, we had a long decent back along the Charcahuaylia pass into the Elfin Forest, which was the habitat for the orchid and humming bird the scenery changed from mountainous to tropical.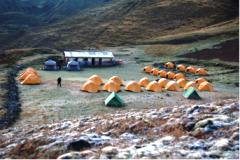 Cold morning at Ancascocha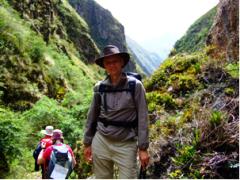 Scenery was now tropical
We had a quick stop for lunch, 2 course meal this time, how do they do it, more cocoa tea and off again on a further decent into the Sacred Valley and overnight camp at Camicancha at 2960m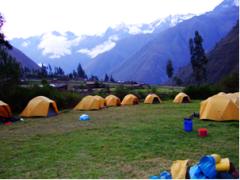 Camp at Camicancha at 2960m
Camicancha camp was a bit warmer, it had proper toilets and hot showers, well my shower was hot but a few unfortunate trekkers had cold ones and they were not impressed after queuing for ½ hour. We had food cooked in the traditional way on hot stones, ending off the evening with a camp fire, a few beers (yippee) and the obligatory joke telling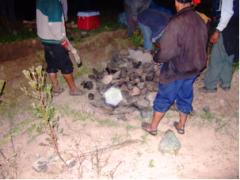 Cooking the traditional way under hot stones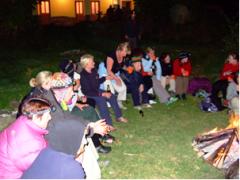 Camp fire, few beers and jokes
Most jokes at the camp fire I could never repeat again, but two deserve a mention, the "Balloon joke" and the "Lovely joke", all my fellow trekkers will be able to relate to these jokes the rest will have to ask me about them and no I will not even mention the Bill and Ben joke Maria.
Day 7 – 19 th May
Today was meant to be a relatively short walk more Peruvian flat we was told, which actually meant hilly, we was to walk along the Urubamba river up to a camp site near to Ollaqntantambo. We stopped for lunch at Cachicata and after lunch we was given a choice, either have the slow walk to the next camp or a fast walk up to the quarry to see where the rocks for the Inca buildings in Ollantaytambo were quarried, I along with most of the group foolishly opted for the fast walk up the quarry, when will we learn.
We set off at such a fast pace you would have thought our lives depended on getting up to the quarry the quickest, after about 30 minutes we were all suffering, including Max, the guides and the horses, but no one would give in until one kind trekker said, after almost collapsing with exhaustion, that they had enough and wanted to slow down.
The walk up the quarry took about 2 hours, it was a hard, steep ascent but the views of the valley below were fabulous.
.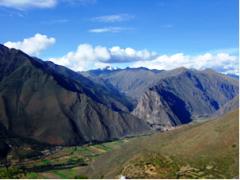 View from the top of the quarry, we had just walked up from the valley base below !! on the far right in the valley can be seen the town of Ollantaytambo.
On reaching the top we found the hand carved rocks, it looked like they were all just left half finished, Max explained that when the Spanish invaded this area of Peru the Inca buildings were only part finished and these were the rocks which were part carved and they had been left now for several hundred years in the same spot.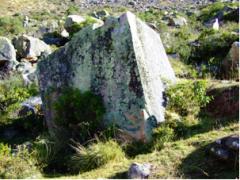 Quarry where the rocks for the Inca buildings in Ollantaytambo were quarried.
On the mountain we were also shown Inca burial tomes, one had been recently robed but the mummified bodies remained, it was quite a privilege to be able to enter the tomes to see the remains of Inca's who would have worked the quarry.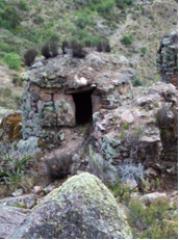 Inca burial tome
We was running out of time so the decent back into the valley was very fast, we just managed to get into camp as darkness fell, what set out to be an easy day turned out to be one of the hardest, but it was well worth it.
Day 8 – 20 th May
After a short walk and bus journey we joined the train for the 40 minute train ride to the start of the Inca trail up to Machu Picchu, this was the first time we had seen tourists since we started the trek.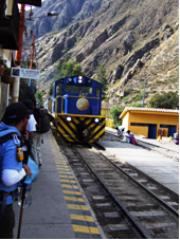 Train journey to start of Inca trail
Macho Picchu is strictly controlled for access so you have to pass though a passport checkpoint before you can start on the trail. On entering the trail we was warned the walk would be tough as we had to reach the entrance to Macho Picchu by 2.30pm, if we were late we would not be allowed to enter until the following day and then would be stuck on the camp site on the trail over night.
We did not have the horses so no one could fall behind, the pace was fast and it was getting much hotter as we had now dropped down to a lower altitude, we were now into insect biting territory so plenty of insect repellent was needed. We trekked for a couple of hours on the Pervian flat again, stopped for lunch at a waterfall then carried on up to an Inca ruin Huinay Huayna, this was a fabulous site it was perched on the side of a mountain surrounded by dense forest, it was a steep walk up though the ruin and the terraces. We stopped for a while and was given a few moments to be on our own and think about our families at home and why we were on the trek and what it meant to us, this was quite an emotional moment for me as the full impact of what I had been though for the last few years and why I was on the trek hit home.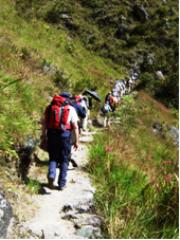 Trekking up again, Peruvian flat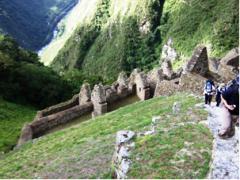 Inca ruin at Huinay Huayna a few moments to ourselves
Continuing on the trail we passed thought the camp site, it was quite busy and crowded, thank god we were not stopping there as the tents were crammed in one on top of each other on small dirt Inca terraces, we were warned not to use the toilets as we passed through as the camp was so dirty. We entered the Machu Picchu sanctuary on time at 2.30pm.
We were soon on the way again up at quite a fast pace, we had another short stop on the way as there was a challenge for some of the trekkers to see how fast they can run up the last flight of steps before reaching the sun gate. The record for running the steps was held by one of the Peruvian guides with us, about 11 seconds, at this stage I was so exhausted I found it difficult to even walk up the steps let alone run, but a few rose to the challenge, and one of them Rob broke the record in about 10 seconds and also one of girls in the group Maria was the first woman to ever have a go and done it in 14 seconds, we were such a hardy bunch.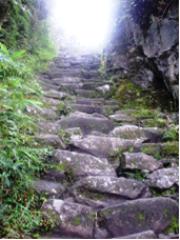 View up the steps, I am not running up there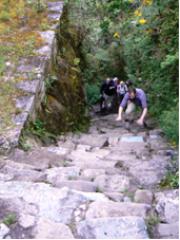 One trekker taking on the challenge
We then moved on to the sun gate where we were presented with our medals as this represented the end of the trekking part of the challenge, this again was very emotional and there was not a dry eye amongst us as we reached the top and passed though the sun gate. We then descended down to Machu Picchu and the views were unbelievable, I have seen photographs before of Machu Picchu but it does not do it justice, Machu Picchu just seemed to push up to the sky from the river Urubamba below and it was surrounded by a fabulous range of mountains covered in dense forest, some of which in the distant were snow capped.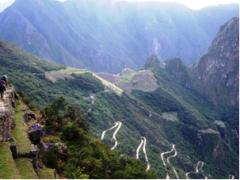 View of Machu Picchu from the sun gate, the road in the foreground is the route down to the town of Aguas Calientes where we were staying in the evening.
We arrived quite late to Machu Picchu and it was starting to get dusk, we were just about the only people there so we sat quietly and Max gave us our second talk about the history of Peru, it was so peaceful and quiet it truly was a fabulous place. We were then taken by bus down the winding road to the base of the Machu Picchu to the town of Aguas Calientes for our first nights hotel for 6 nights, bed, shower and a toilet were you did not have to get dressed up to use at night, the evening was spent in a local restaurant, bar and quite a seedy night club celebrating our success. After 6 days of camp food restaurant food was most welcome, not that the camp food was bad but you can only do so many things with rice, eggs, potatoes and pumkin. The celebrations went on into the early hours, but for me it was off to bed.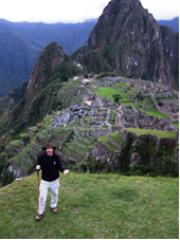 Our first up close view of Machu Pichu with Max giving us a talk, it was just dusk and very peaceful.
Day 9 – 21th May
We were woken early so we could return to Machu Picchu to see the sun rise, some of my fellow trekkers suffering from too many Pisco Sours, we took the bus back up the winding road but unfortunately it was too cloudy to see the sun rise, so we could have stayed in bed a bit longer. We then had a tour, the more I heard about Machu Picchu the more intriguing it became every building and stone seemed to have some shape or significance for being there, either lined or carved to match one of the surrounding mountains or positioned such that when the sun hit it a certain time of year it signified either the start of the wet or dry season, apparently Peru has only two seasons wet and dry, whereas in the UK we just have wet.
Machu Picchu was only re-discovered in 1911, that is why a significant amount was left standing as it escaped being destroyed when the Spanish invaded in the 16th Century, just a couple of years ago more was discovered further down the mountain, what a place. We then spent the rest of the day looking around Machu Picchu and Aguas Calientes time for lots of photos and time to relax .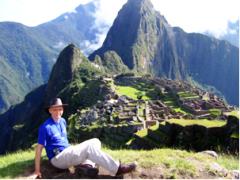 The obligatory Machu Pichu photo, mind the edge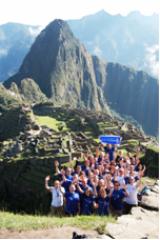 Group photo all mind the edge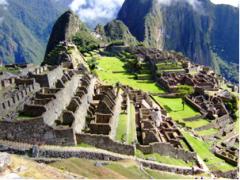 More Macho Piccu photos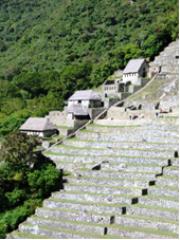 Macho Piccu showing traditional building construction
Aguas Calientes reminded me of the wild west town, shops and bars lined the railway track and the tracks were the main street running through the town, the only way in and out was by train, or walk, luckily our route out of Aguas Calientes was by train which we boarded late in the day for the 4 hour journey back to our starting point as Cusco. Arriving in Cusco late evening we just had time to catch a bite to eat before crashing in bed, I think even the party animals from the night before went off to bed early.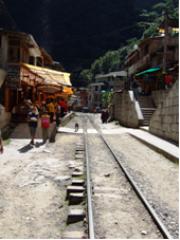 Aguas Calientes main St
Day 10 – 22 nd May
A free day to explore the delights of Cusco and get the all important shopping done, no wake up call, great. For the more hard core plenty more sight seeing, for me it was just nice to sit and watch the world go by, then to the night time festivities, met at the Crosskeys pub for our last get together, presentation of prizes, trek songs and sketches. Then onto the "the only gay bar in the village" Fallen Angels, this was not my idea !!! the bar was a crazy mix of colour and cock tails, several cocktails later and not many trekkers left standing, back to the Crosskeys for a few "proper drinks" then onto a few night clubs until the early hours, the last two not quite making it back to their rooms and crashing on the hotel sofas, what a night.
Main Square in Cusco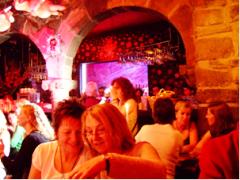 The "the only gay bar in the village " Fallen Angels
Day 11 – 23 rd May
The trip home, oh no. I have only been in bed a couple of hours, for those who know me well that is quite good after a night out, at breakfast there was a few with serious hangovers, oh why did we drink so many cocktail. We comforted ourselves with the fact that it was the altitude that had an effect not the 10 bottles of beer and half a dozen cocktails.
First bus to Cusco airport, then flight to Lima, a few hours to kill in Lima where we said our goodbyes to Max and Max made sure we did go home and time to buy last minute presents, flight to Madrid then after having last minute presents confiscated by the Spanish customs a short wait for flight to Heathrow, then a long drive home, from leaving hotel in Cusco to getting home took a total of 36 hours, what a day.
Has the Trek changed how I look at life, no I do not think it has, having cancer pretty much changed that, the trip certainly far exceeded my expectations, the scenery was far better, the trek was very well organised and a fabulous challenge, the people I met on the trek were the best and I am sure will be friends with forever. What made the trek special for me was that we all had a common bond in cancer, either we had personally been affected or someone close had been, it was very rewarding for something so good to come out of such a destructive disease.
Hope you have enjoyed the story of my trip, I have to finish off with a big thank you to all my fellows trekkers who made this trip so memorable and every one who has donated, as without people like you raising money for research into cancer people like me would not be here. I can not finish without a special thank you to my wife, family and friends for all the support they have given me.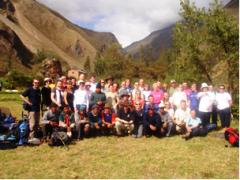 All my fellow trekkers and support staff
---