Everest Base Camp Trek, Nepal
---
Everest Base Camp Trek – 4th to 20th November 2011
Well I finally did it, it was one of the hardest challenges I have ever done, out of our group of 15 people, 2 had to be rescued by helicopter due to altitude and cold and 2 more ended up in hospital and that was just my fellow trekkers, also 4 Sherpas and the doctor fell ill. The walking was hard, the weather was very cold but the skies were clear and the views of the mountains were fabulous, it truly was an unforgettable adventure.
The adventure began almost a year before when I decided that in 2011 "I was going to go to Everest base camp", ever since I had cancer this had been on my "to do list" and 2011 marking my 5 years cancer free seemed like a good year to do it.
Also I had set myself a goal when I had cancer to raise £25,000 for cancer research UK and having already reached over £12,000 this seemed a great challenge to focus my fundraising around.
February 2011 I was signed up and there was no turning back, fundraising under way and starting a training program, after several months and lots of training, all kit purchased, visa obtained and vaccinations done I was ready to go.
4th – 6th November
I arrived at Heathrow on evening of 4th November for the long flight to Delhi and the onward flight to Kathmandu, I had always wanted to visit Kathmandu as it sounded a place full of mystic and intrigue, in reality it was smoggy and dirty, the bus which collected us from the airport travelled though some very run down areas, sewage and rubbish floating down the rivers, lots of traffic, people and noise, what a crazy place.
Out of all this we arrived at our hotel which was such a contrast to the area around, a smartly dressed doorman saluting and opening the door and arriving into a plush hotel lobby.
After a short chat it was off to get changed and then down for dinner, a lovely buffet, we all returned several times eating as much as we could as we knew this would be the last western food we would get for a while.
4.30am alarm call and off to the airport, we had been told that the airport at Lukla our destination airport and the place of the start of our trek had been shut for almost a week due to the bad weather so we were not sure if we would be able to fly.
Arriving at the domestic side of Kathmandu airport was totally different to the international arrivals, the airport was crowded with people and piles of bags and equipment and very chaotic, we were given boarding cards passed security and into departures, then followed a long wait. We would be called to gate and get out to aircraft and then be sent back, we were waiting until the cloud cover was above 5000m so we could land at Lukla. Finally at 3.00pm we were rushed out again as the cloud cover had lifted and onto the aircraft and we were off, we were the third aircraft to take off, we were all very excited and nervous about what we might find at the airport as 3500 people were reported to be trapped.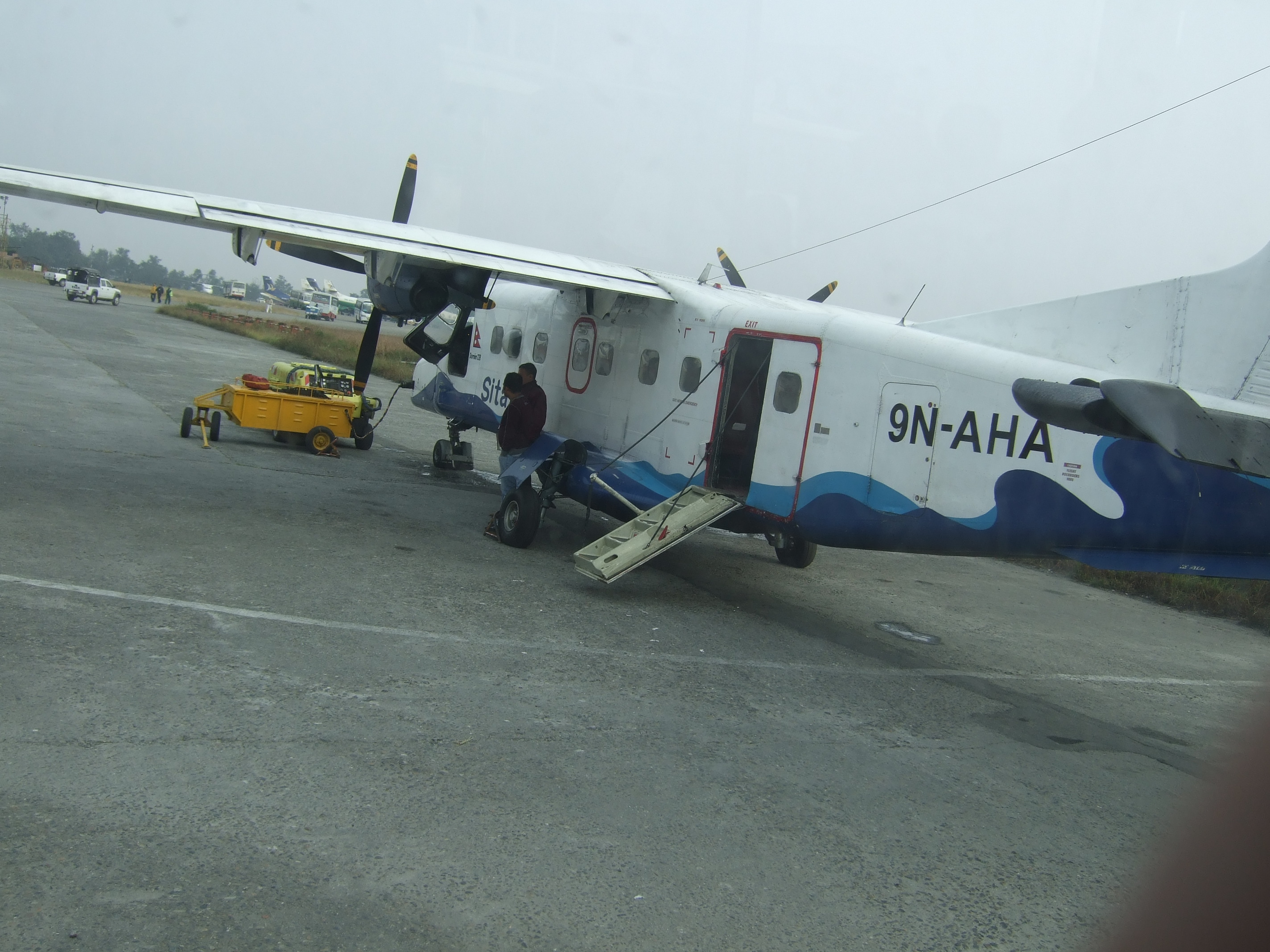 Our small aircraft for flight to Lukla
As the aircraft climbed it soon became apparent that this was not going to be a comfortable flight, the aircraft would climb and descend to try and get out of the clouds, the pilot was struggling to see and we had lost sight of the other aircraft, I have never felt as sick or scared during a flight. Having read much about Lukla airport and its reputation for being the most dangerous airport in the world made for a very scary flight, 15 minutes before arriving the pilot decided to abort the flight returning back to Kathmandu, massive disappointment but relief the flight was going to be over and we were not going to attempt to land at Lukla in low cloud.
We spent a further night in Kathmandu worried that we would not start the trek due to not being able to get to Lukla and worried that to start thetrek we had to go back up in that aircraft again.

7th November
Early start but this time the skies were much clearer and we were straight onto the aircraft and off, the flight was far better we could see for miles, the snow covered mountains poked above the clouds and the landing at Lukla was not as half as bad as we had expected. Being one of the first flights to arrive for almost a week lots of people were standing around looking rather bedraggled and we were hearing stories of the scramble and fights that had been going on as people were so desperate to get out of Lukla.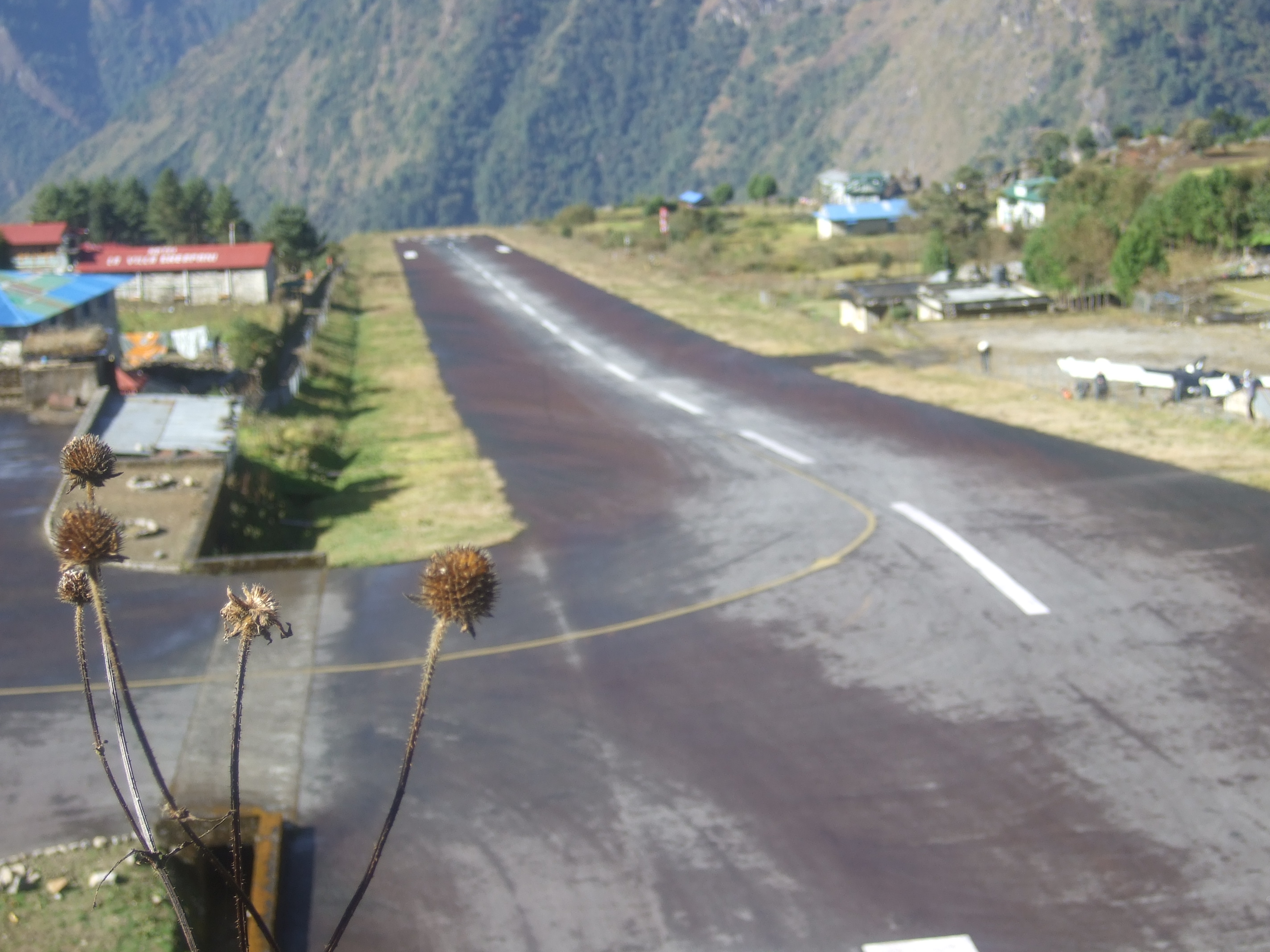 Lukla most dangerous airport in the world
After a short walk we met at a tea house and then had a couple of hours to pass until we started on the trek, Lukla was a rough, dirty, and muddy place, but the sun was out and we had survived the flight so we were all happy. After a few hours we were finally off, the first day was a gentle walk to Phakding (2652m) we arrived early before our kit. Our kit was transported by yaks and everyday the Sherpa's had to pack all the kit up and move to the next camp.
Before dinner we went for walk in to thelocal town and found bar with a snooker table, how they got the table there we did not know as the only way was to carry it from Lukla. Power cut stopped play.

We returned for meal and bed. The food we were given on the trek was very good and always amazed us how such food could be made up sometimes in remote areas in unbearably cold temperatures. Our daily diet consisted of for breakfast, porridge, toast, eggs and tea, I have never been a lover of porridge but I have been converted, when you are so cold it is great to warm you up. Lunch would depend on what we had not eaten for breakfast, so would be eggs or pizza using the toast (the pizza was my favourite) then we would have a mix on the plate of spam, fried potatoes, cauliflower, then to finish fruit salad. Dinner would be on the similar lines but to start would have soup, the soup was always garlic and something but we never really knew what the something was for sure, probably whatever was left from lunch then fruit salad or custard and tea, coffee or hot chocolate.
8th – 9h November
We woke on the second day in our tents not too cold and ready for a days trekking, the routine was, wake up about 6.00 with cup of tea (very civilised) hot water at 6.15 for wash , then pack all our kit up, pack our day packs, breakfast, pick up water and we were off by about 7.30 – 8.00.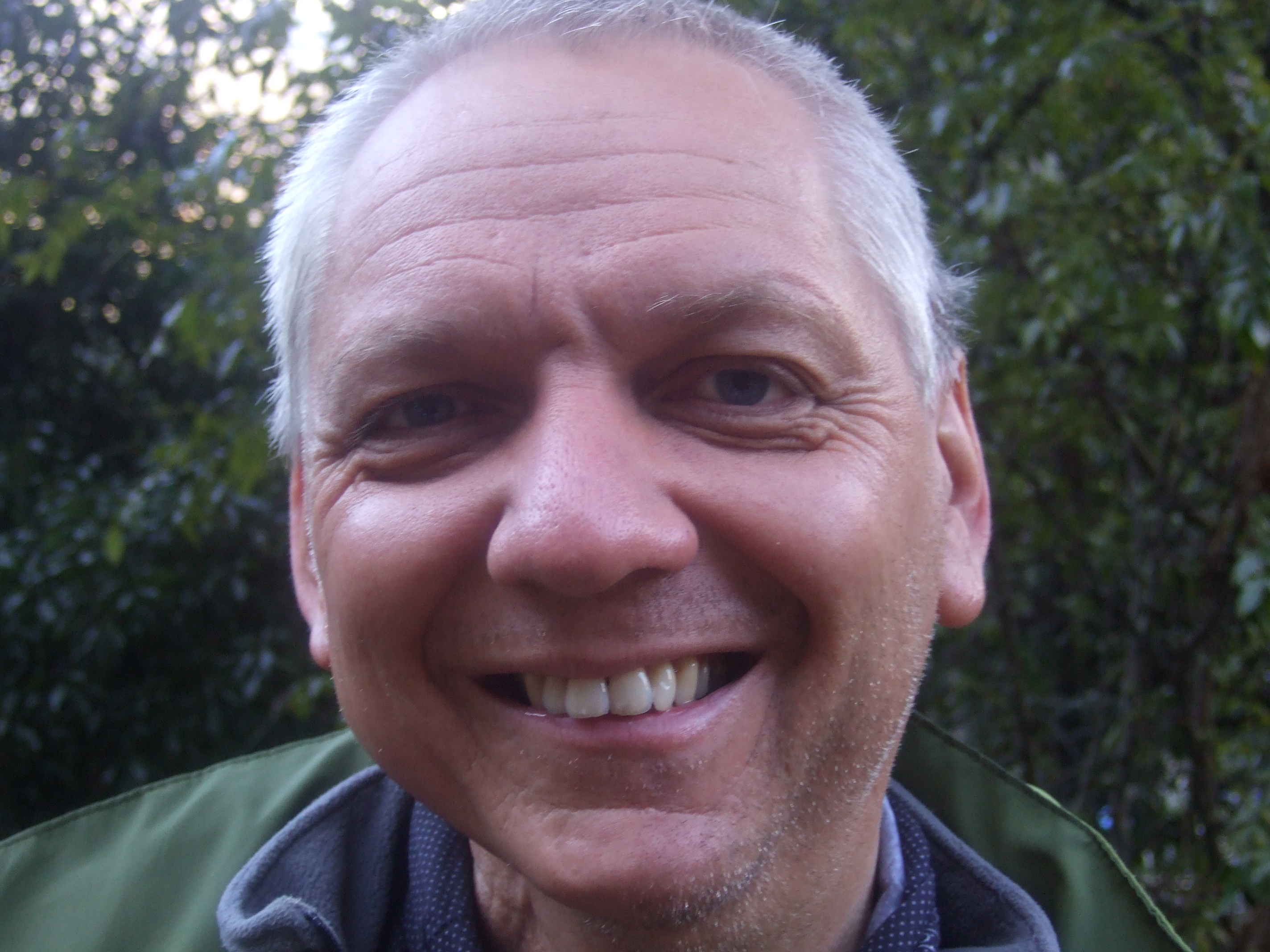 Start of trek clean shaven
The second day of trekking took us to Namche Bazzar (3440m) it was a hard 8 hours trekking our first real taster of what was to come, steep up hill climbs and crossing many rivers over large bridges.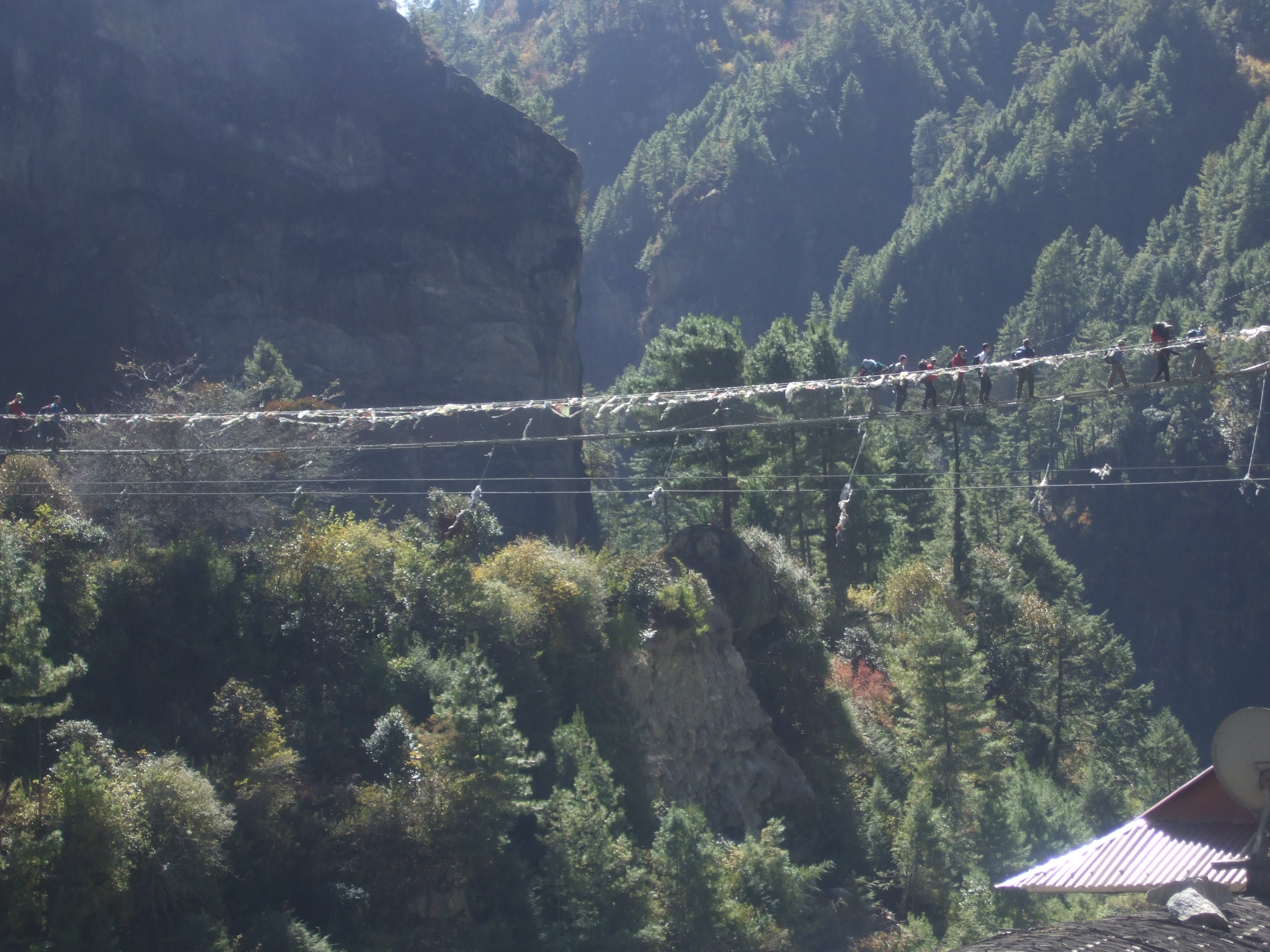 One of the many bridges we crossed

Each day the altitude we climbed was about 800m but because we had to cross mountains and valleys the actual amount climbed was more near 1600m.
We arrived at our second camp at Namche Bazzar several in the group were ill and a couple had become parted from the main group so we was all very happy to arrive at camp just before it got dark, as soon as the sun went down is was freezing cold and ice appeared on the tents, this was going to be cold night, we also had our first introduction to the very poor sanitary conditions, very hard to put into words but they reminded me of the outdoor toilet scene in slumdog millionaire.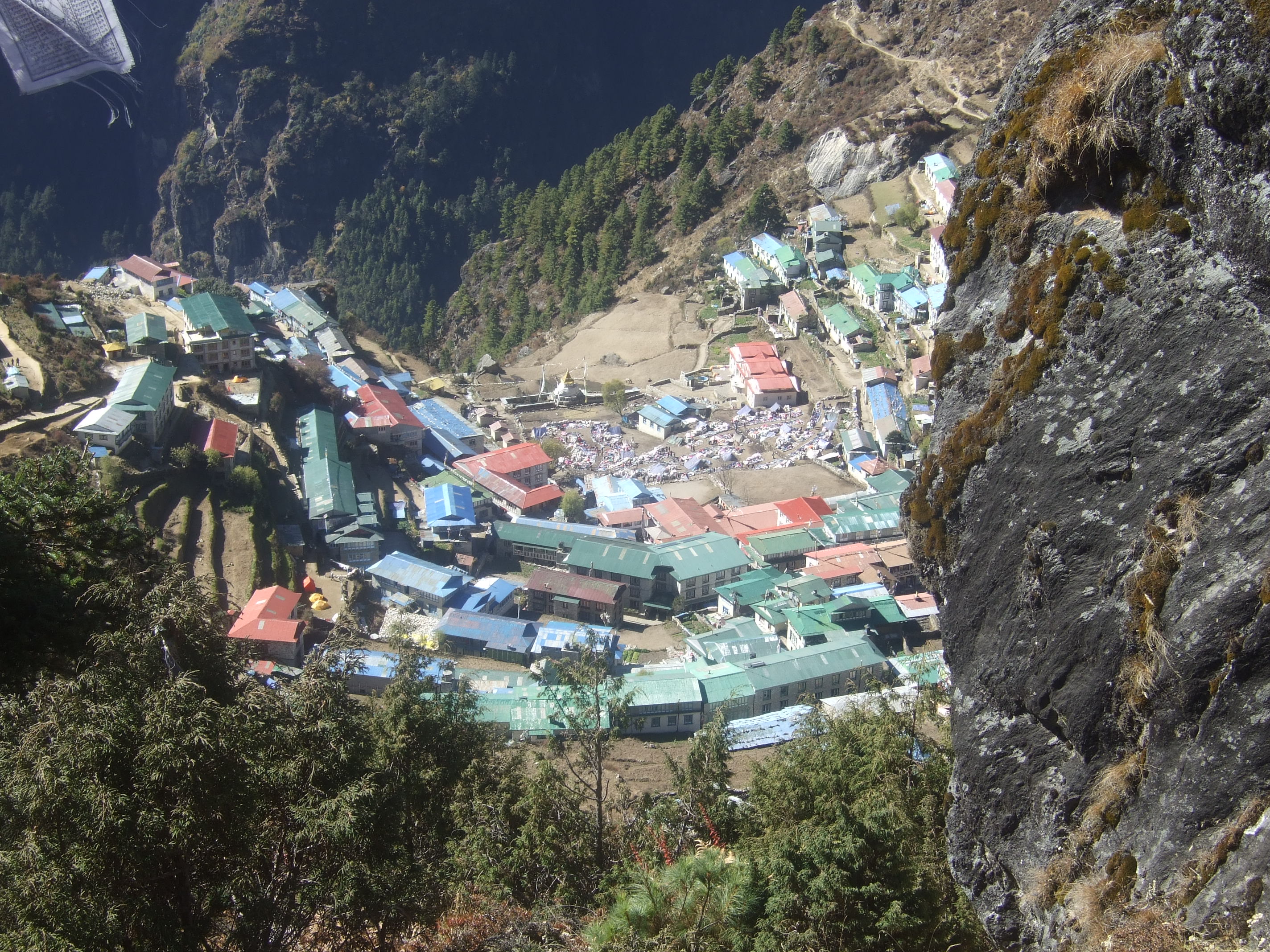 Namche Bazzer (3440m)
It was dinner and bed by 8.00pm. We were up a little later in the morning as we were going to remain at Namche Bazzar for a day to acclimatize, we went for a short walk in the morning to gain some more height to help with acclimation and we got our first view of Everest, in the afternoon was spent around the town then back to camp, as soon as the sun went down again the temperatures quickly dropped below freezing.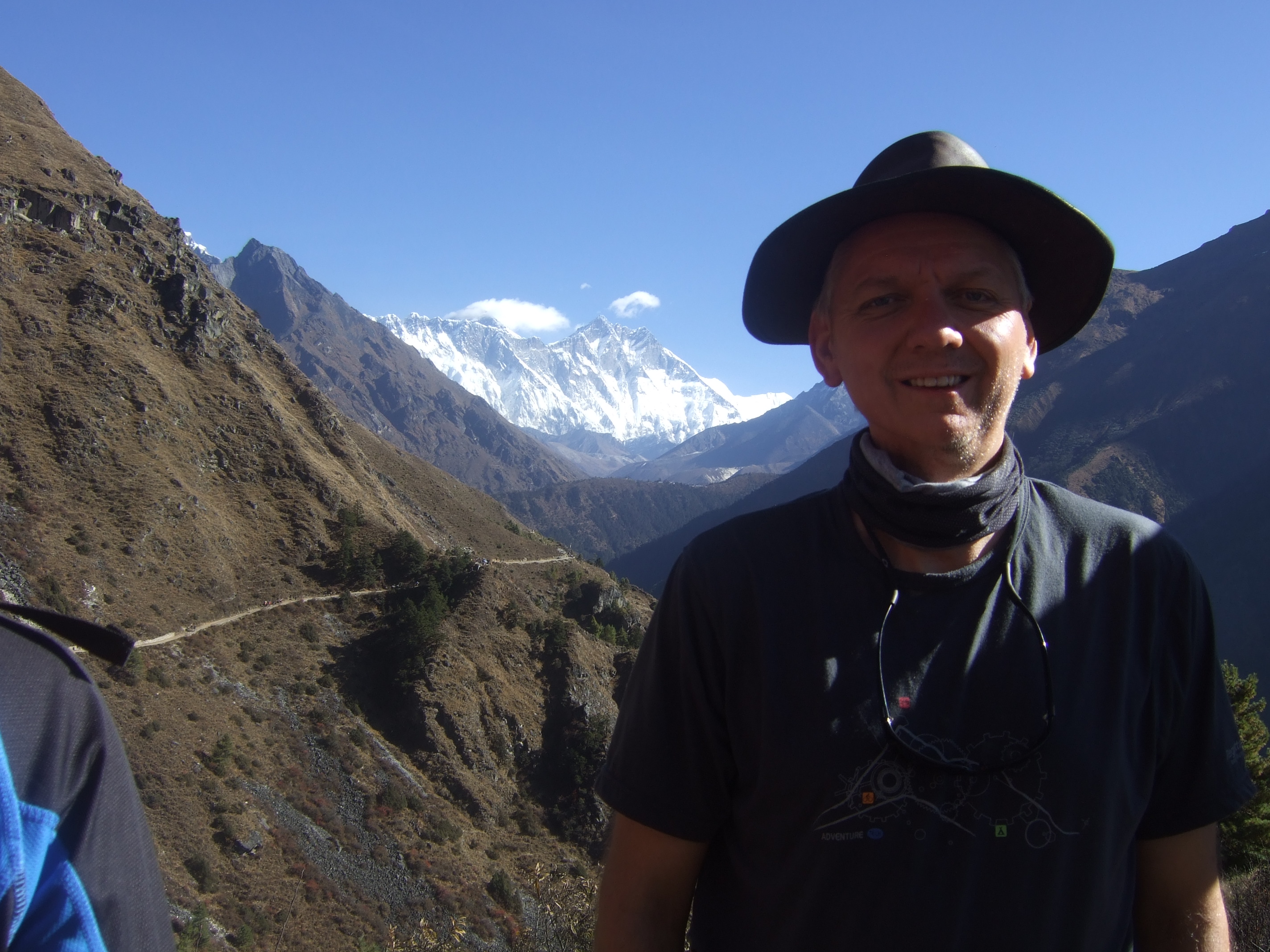 First view of Everest
10th November
Early start up and breakfast and out trekking at 8.00am, today was another tough walk, morning spent walking up and down hills, then in the afternoon a tough 4 hour slog up a hill to Thyangboche (3867m) a brief stop to have a look around a monastery then it was to our camp site.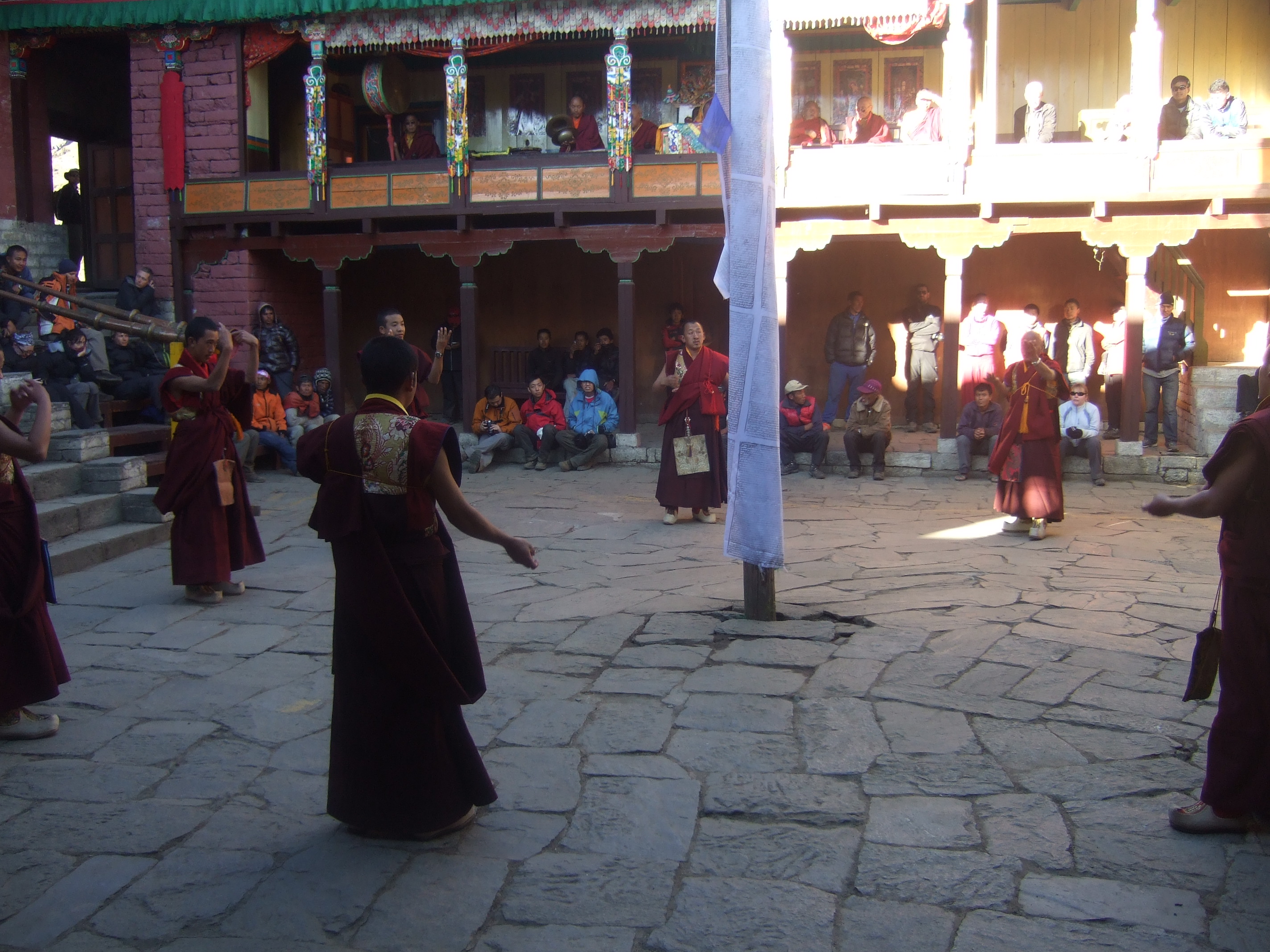 Monastery at Thyangboche

11th November
Our start was interrupted by a helicopter landing next to our tents picking up a trekker from another group, then we set off, after 8 hours trekking arrived at Dingboche (4358m) late afternoon, now it was getting really cold, dinner and in bed by 9.00. Had a bad night, breathing was becoming more difficult waking every couple of hours and having to really take deep breaths to get enough oxygen in lungs, every movement made me breathless, also got a cough due to the dust and cold so starting to feel a bit rough also having bad headaches all a sign of altitude sickness.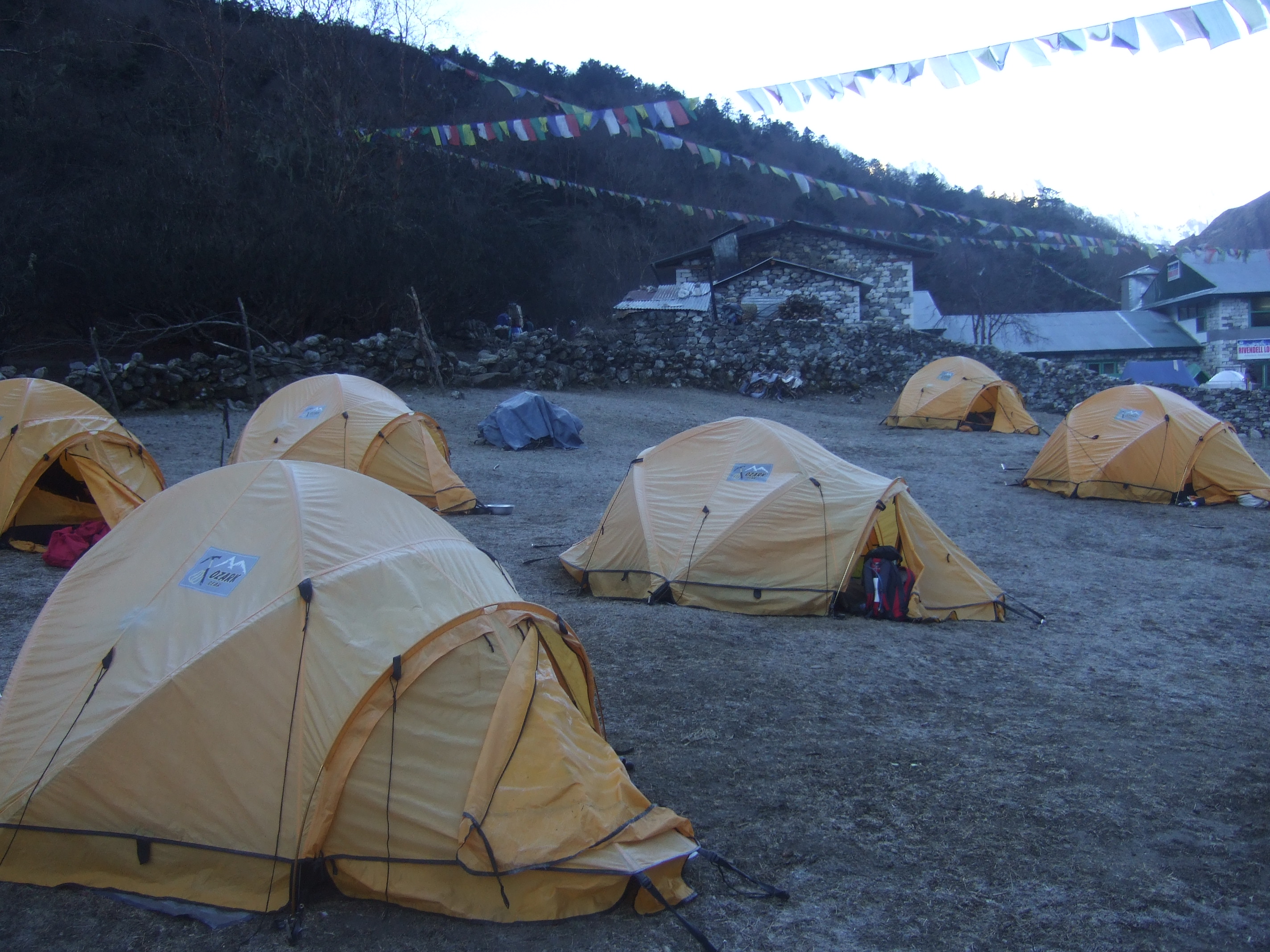 Cold night in tents Dingboche
12th November
Thankfully another acclimation day so we stayed at Dingboche and went for a short walk to a higher altitude, was feeling a bit better by mid afternoon but now had another effect of the altitude, loss of appetite, I knew I had to eat but if was so hard, I just forced down what food I could and it was off to bed at 8.00.

13th November
Early cold start as the sun was not up, felt a bit better today, just cough and loss of appetite but everything else was good. A very hard and cold walk to Loboche (4928m), arriving Loboche late afternoon as the sun was setting the camp site was well outside the village on a small Plateaux, very very cold place, just had dinner and bed, really hard trying to force down the food, tomorrow was the last big push to base camp so did not sleep much due to altitude, cold and apprehension at what lay ahead. Several in the group were really struggling now and a few others were ill so the next couple of days was going to be tough.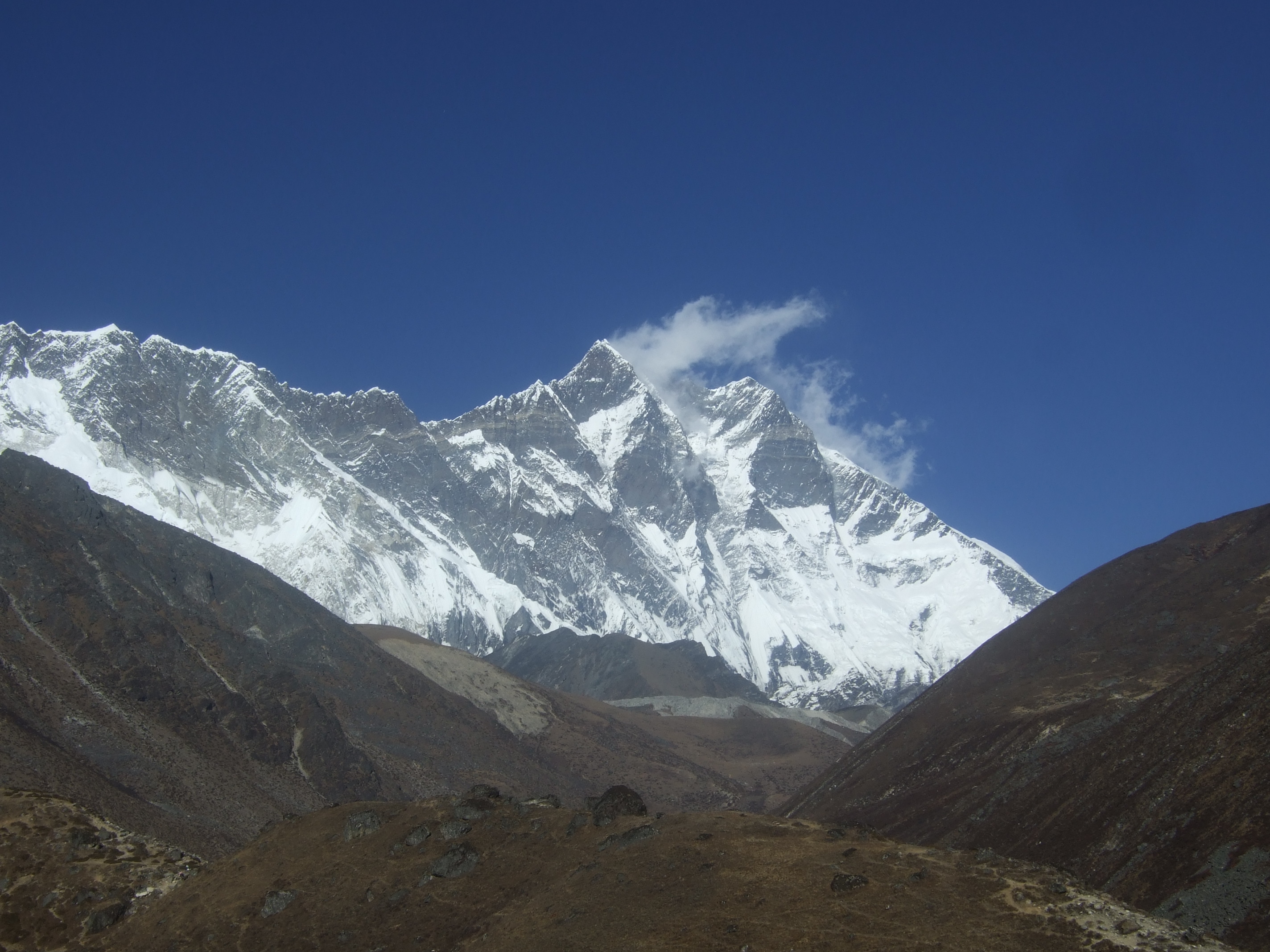 Tough day walk to Loboche but fabulous views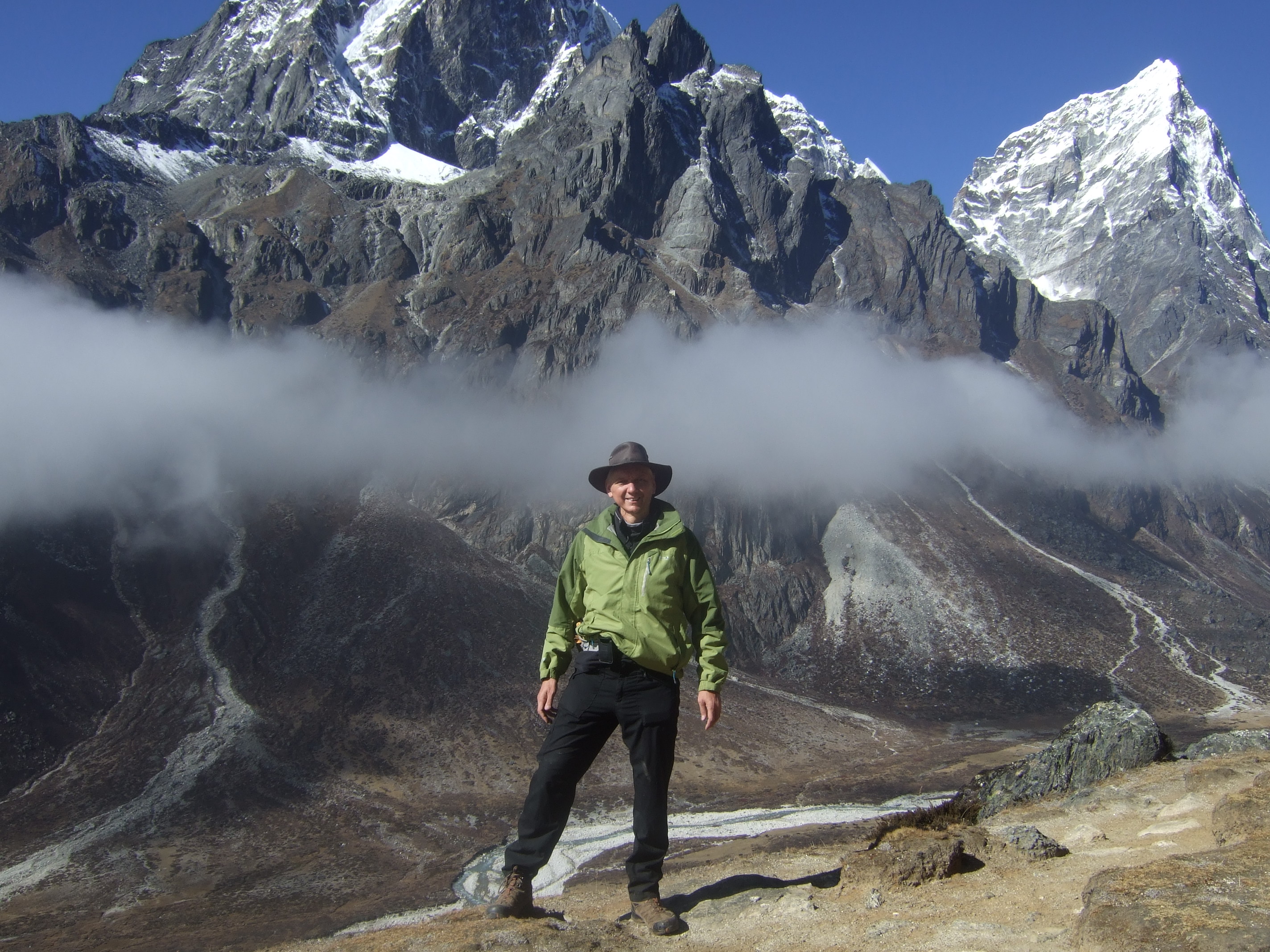 We were now above the cloud line

14th November
Early cold start again, up, breakfast and out, no washing or change of clothes today it was just so cold, today was going to be the tough one, walk to Gorakshep (5288m) rest and lunch and then push onto Everest base camp (5357m) then returning to Gorakshep, we were under a tight time schedule, we had to make it to base camp by 2.30pm allowing us to get back to Gorakshep before the sun went down, we could not be still on the track after sunset as the temperatures would be far too low. The morning was tough the terrain was hard and the lack of oxygen was a real struggle having to walk so slowly.
Arriving at Gorakshep I felt well, we had lunch and rest, one of our trekkers was not so lucky they were really unwell and had to stop.
We pushed on to base camp and the terrain was rough and we had to walk around the ice fields, arriving at base camp at 2.15, it was a very emotional moment, having made it as it had been so hard.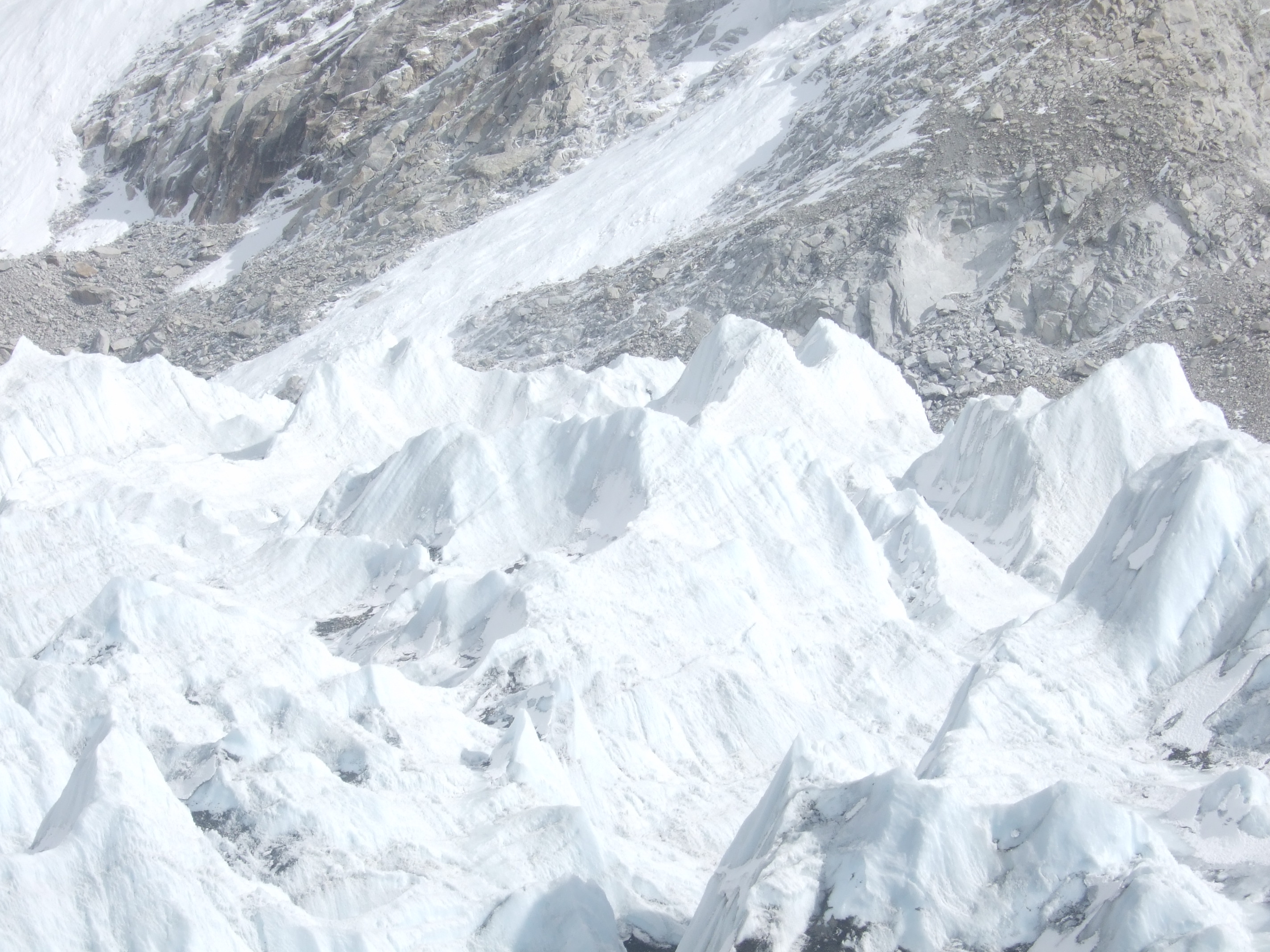 The ice fields on way to Everest base camp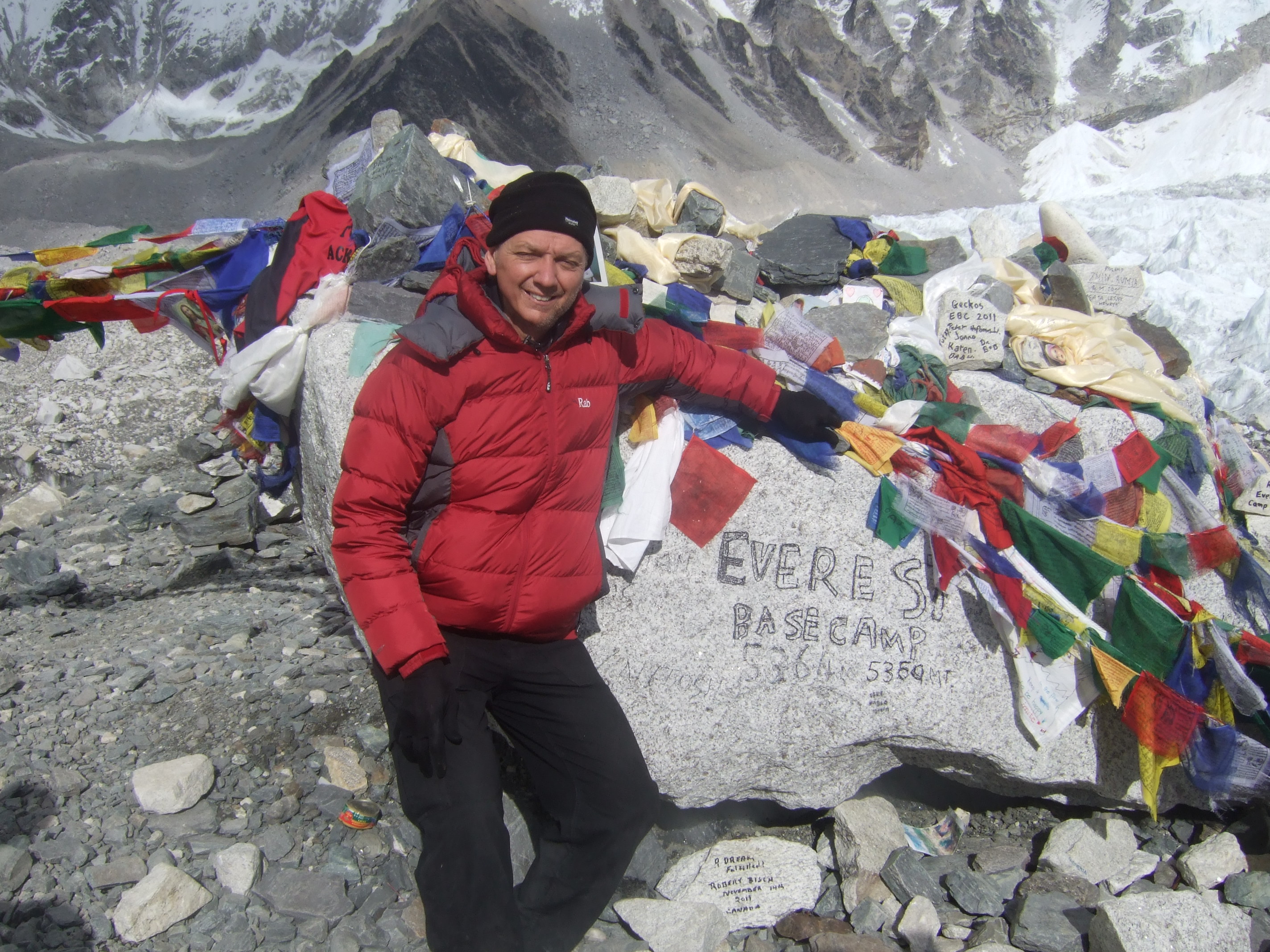 Finally made it Everest base camp
We could only stop for a short time and it was off back to Gorakshep, the walk back was even harder as the buzz and adreniline had gone, we arrived back at Gorakshep which was a very desolate place just before sunset having walked for over 10 hours. Another one of the trekkers fell ill on returning to Gorakshep, both of those ill needed to be evacuated, so a helicopter was called for them in the morning.

Gorakshep remote and desolate

15th – 17th November
It was a very very cold night, very difficult to sleep, waking up in the morning with frost on outside of my sleeping bag. Up, no wash no change of clothes again as, far too cold, I felt rough.

Luckily the weather was clear so the two ill trekkers were able to be evacuated by helicopter it was very sad to see them go and also knowing now that we had a very long walk back.
We started walking at 8.00, as we had lost a day at the beginning of the trek due to flight delays into Lukla we now had to squeeze 4 days walking into 3 days, the next 3 days was really tough, 9 and 10 hours dayswalking each day, during the walk down the doctor fell ill and had to be carried by Sherpas, we were now staying in tea houses which was a nice change to the tents, was still just as cold but you could sort out kit and clothes and manage to get a wash and change. On the final day arriving back in Lukla in the middle of the afternoon we were told that the airport had been shut again this time for 3 days, we were lucky to find accommodation, albeit in a tea house which was only part built, but still that was better than a tent and managed to get a few beers in for the first time, visited the Irish bar drinking it out of its 3 tins of Guinness
18th November
We said our goodbyes to the Sherpas and other support staff and headed off to the airport, again we were really lucky our flight took off as the weather had cleared, we heard when we arrived back in Kathmandu that Lukla airport had been closed again, so we were very lucky to get out.
Travelling though Kathmandu it did not seem so rough this time compared to where we had just come from, arriving back at our hotel, then it was off to have shower and finally get a good nights sleep in a lovely warm bed.
19th November
Our last day before returning home was spent in Kathmandu, sightseeing before a celebration dinner then HOME
What are my thoughts after the trek ?
The people of Nepal have a very difficult life, they lack the basics that we take for granted, clean water and sanitation, the Sherpas who work the tracks delivering goods have a very hard life for very little payment, their life expectancy is about 40, I often wondered what the Sherpas thought about us when we saw them with massive loads on their backs, were they thankful for us to be here to give them work or would they have a better life without us, I found this very difficult.
On the trek we visited a museum of Sherpa life and a room was dedicated to all the Sherpas who had climbed Everest supporting expeditions, on reading the stories of how these Sherpas put their lives at risk supporting climbing attempts they were the true heros yet in the write ups they were never named, that was so sad.
Would I go back to Nepal and Everest base camp ?
Yes I would go back to Nepal the people were very friendly and the scenery was fabulous, but No I would not go back to Everest base camp, the trek pushed me mentally and physically to the limits with the extreme cold and altitude.

Tips to anyone taking part in trek to Everest base camp
Make sure you go prepared for any eventuality, we were told the temperatures at base camp would only be just below freezing but one night it was about -20 as the weather turned, so be prepared, a good down sleeping bag and down jacket and also thermals, also good gloves, the gloves I had let me down, when warm they held any sweat from your hands in the lining of the glove so hands got very cold.
You do not need lots of clothes as you will stay in the same clothes most of the time, but take plenty of socks and underwear. Take lots of wet wipes great for freshen up also to keep hands clean, take plenty of antiseptic hand gel the more the better and use all the time this is the best way to avoid picking up germs, the last thing you want is to get sickness and diarrhea. Take a good head torch, I had quite a small one and really was not bright enough when wandering around in the dark.
Take plenty of your favourite snacks, you can buy chocolate on the way this is ok to give yourself a treat and a bit of comfort but as sugar burned off very quickly it does not give you long term energy, take with you nuts, seeds, I took fruit and nut bars, wish I had taken more.
Watch what you eat, don't eat anything which could have been washed in water unless you know the water has been boiled and don't have ice.
Make sure you do plenty of training before going so can be as fit as can, you do not have to be super fit as the trek is slow but will need a lot of stamina to walk up to 10 hours each day over a number of days
On trek keep warm and eat and drink plenty, you should be drinking about 5 litres of water per day which is a vast amount, put rehydration Sackets into the water as his helps. At higher altitude you lose appetite but you have to force yourself to eat as you need the fuel to keep going.
Thank you for reading
John