The 3 Peaks 3 Days Challange
Day 1 - Snowdon

After months of training and fundraising, the first day of our challenge had finally arrived. Fresh, fit, and ready to conquer all three mountains, John, with his fellow adventurers: Dan, David, Katie, Tina, Colin, Susan, Karen, Tracey, Jason, Andy and Peter (with Chris acting as driver, chef, logistical person) clambered into the minibus (after a bacon sandwich courtesy of Tracey McVey) and set off towards Snowdon. Guided by our first excellent walking expert; Jock, we reached the summit (1085m) via the Pyg Trail at 1pm.
As we climbed higher, the mist descended and the winds grew stronger. Learning that the café at the top was closed due to the weather did not deter us, and we all had a happy (albeit cold) lunch before descending down the Llanberris path. Although at times the hurricane-like winds made it difficult to walk, we successfully reached the bottom at 3.15pm, covering approximately 8.25 miles. Day 1 finished with a well earned BBQ (courtesy of Ali and Wyn) before an early night's sleep; we had completed out first mountain!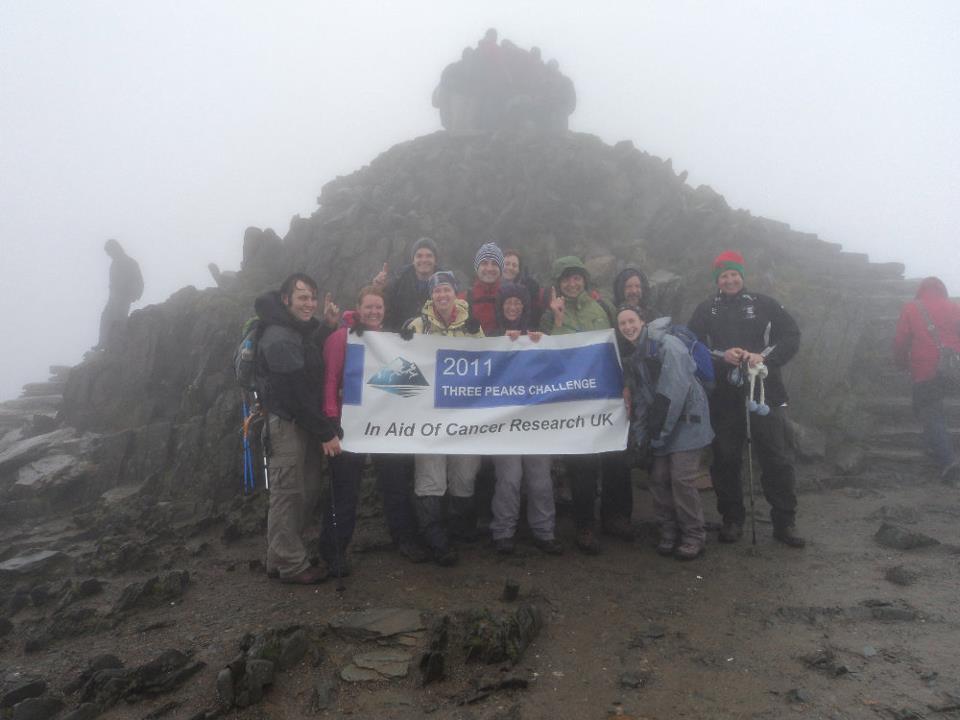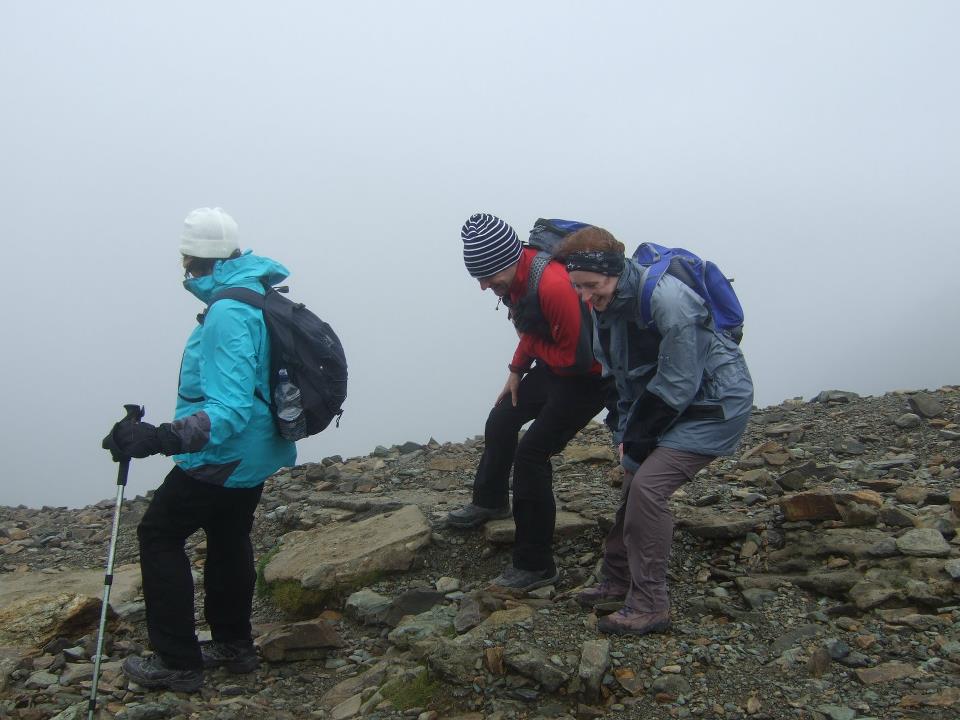 Day 2 - Scafell Pike
An early wake up call started our second day. We set off in the minibus at 5.30am, heading north towards the Lake District and our next mountain. After a long journey, driving up steep roads and through the dramatic landscape, we met our guide for today, Mike.
We began walking at 10.30am, up the Brown Tongue Path and what seemed an endless staircase of rocks, climbing up into the dark clouds – we could not see the summit! The mountain was completely different to Snowdon, and we found ourselves crossing raging rivers! Although smaller than Snowdon, we all agreed Scafell was the toughest. The higher we went, the worse the weather got, and by the time we reached the summit (978m) at 1.30pm most of us were wet through (we learnt water proofs aren't actually that waterproof!)
However the sense of achievement at completing our second mountain made us forget the weather, and we concentrated on getting back down the mountain. We reached the minibus at 4pm, having walked approximately 7 miles throughout the day, and set off straight away to Scotland. We arrived at our hostel in Fort William at 11.30pm, got all our wet things into the dry room, and headed to bed after a long, but rewarding day.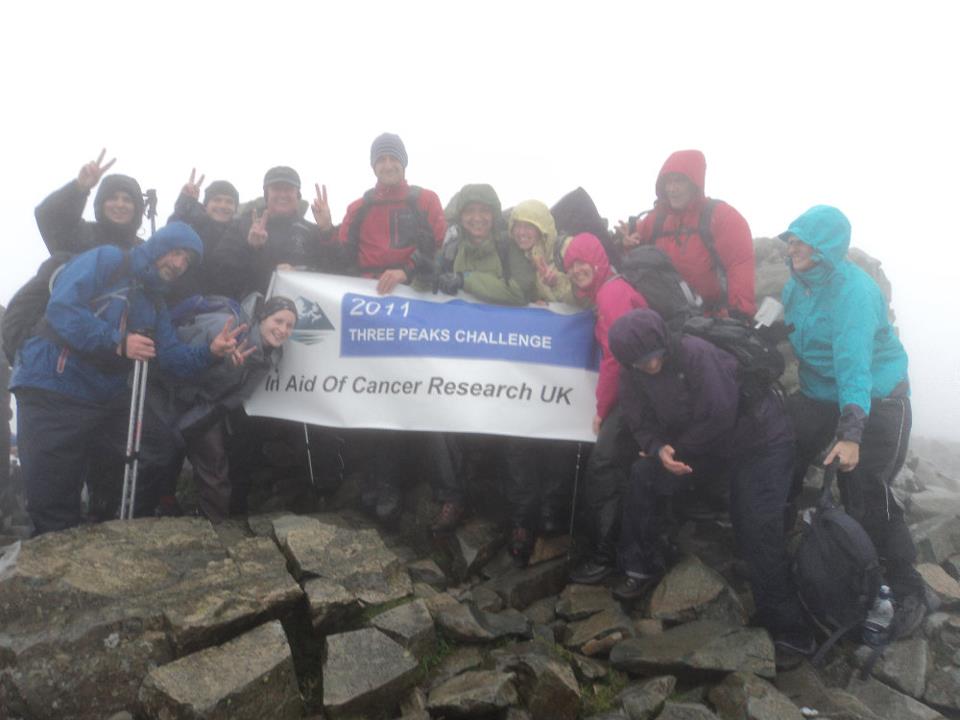 Day 3 - Ben Nevis
Day 3 began with a 6am wake up. After a short drive, we arrived at the start of the trail up 'Ben'. It was already raining so waterproof jackets and trousers were on, hoods up. We met our final guide, Max, and began walking at 8.30am up the Tourist Path.
The weather, although rainy, was better than Scafell, and we could see more of the beautiful scenery as we climbed. By now most of us were tired, but thinking about why we were walking spurred us all on, gaining more energy towards the top (plus Max's positive facts at the corner of each zig zag motivated us on, and kept us smiling). We reached the summit (1344m) at 12.15pm; we had climbed our third and final mountain!
We began our descent as the weather worsened, crossing waterfalls which had only been small streams on our ascent. I don't think anyone had dry feet by the time we reached the bottom! When we did get back to the minibus, at 3.15pm, Chris had arranged for us all to get dry and changed in the Ben Nevis Inn.
Once dry, we headed upstairs with hot chocolates and beers and trophies were handed out. We thanked John and Chris for their hard work in organising everything, and were told we had raised between £4000 and £5000! All that was left was to return back to North Wales, completing almost 900miles of travelling. We were all tired but very happy, reflecting (and sleeping) on the journey back about what we had just accomplished as a group for Cancer Research UK. What an amazing, unforgettable experience.